Eric Wiig Ltd has been applying and installing resin floors for over 30 years.
As a natural progression from the company's background in Painting/Textured Coatings, Resin Flooring has evolved to become one of the main focuses of Eric Wiig Ltd. Servicing Hawkes Bay/East Coast, and Central North Island, call Matt and the team for expert advice and a free, no obligation quote. 
Amazing result at Cavalier Bremworth by updating their concrete floors for stand out safety precautions.
At the 2019 Master Painters Awards we were able to pick up a Gold Award for this project, and were the overall Commercial Dulux Protective & Industrial Coatings Winner!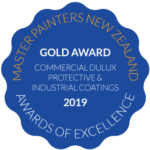 Epoxy Coatings
From medium/light duty floor coatings to full toppings, we have a range of epoxy systems to suit your needs.
With it's tenacious adhesion to concrete and bright colour options, epoxy resins are incredibly versatile. When combined with a polyurethane topcoat, these systems can last for years to come. 
Garage Floors
Walkways/Line Marking
Warehouse Floors
Laboratories
Cleanrooms
Showrooms
Airport Hangers
Workshops
Food and Drink Processing
Manufacturing
MMA Flooring
Boasting fast cure technology (fully cured after 1-2 hours) and the ability to cure at low temperatures, MMA flooring systems can meet a number of tough requirements.
With the decorative quartz/flake options available, MMA floors are fast becoming popular for pool surrounds/changing rooms/toilets in public spaces. Due to the fast curing nature, they are useful for keeping shutdown times to a minimum.
Aquatic Environments
Pool surrounds
Ablution blocks
Changing rooms
Showers
Bakeries
Food and Drink Processing
Heavy Duty Environments
Commercial Kitchens
Sureshield
Licenced by Allnex (formerly Nuplex) Construction Products, Sureshield has led the way in the NZ Resin Flooring industry for decades.
A polyester resin based system known for its fast curing, Sureshield is well suited to situations with high demands and minimum shutdown time available. With a range of colours, slip resistance profiles, and low odour options available, Sureshield has remained successful for years. 
Heavy Duty environments
Butcheries
Bakeries
Food and drink processing
Abattoirs
Commercial Kitchens
Polyurethane/Cement
With excellent resistance to UV, Abrasion, Impact Damage, Heat, and chemical attacks, PU Cement systems a fast becoming the go to for high demand environments.
The ability to install the floor at multiple thicknesses, colours, gloss levels, and slip resistance means a solution can be tailor made for each situation.  
Heavy Duty environments
Butcheries
Bakeries
Food and Drink processing
Abattoirs
Laboratories
Cleanrooms
Workshops
Exterior (UV Stable)
Vinyl Ester/Chemically Resistant Coatings
Boasting superior chemical resistance, vinyl ester based systems are typically the coating system of choice for high demanding environments such as chemical bunds, tanks, pits, drains etc. 
Cost effective epoxy based systems are also available for chemical resistance. 
Food storage and processing plants
Sewage & wastewater facilities for liquid protection
Chemical storage and bund areas
Brine and chemical tanks
Chemical processing areas
Pharmaceutical filling and processing areas
Resin Flooring specific affiliates