The Wiig name has been involved with painting for nearly 75 years in Hawke's Bay, beginning life as a retail shop on Kennedy Road before moving into Contracting.
As Registered Master Painters and active members of the community, we take pride in delivering top quality service and results. Servicing both Interior/Exterior, Commercial/Residential projects, call Carl and his team for a free, no obligation quote. 
Fantastic result at Craggy Range helping achieve a modern refurbishment of their stunning restaurant.
At the 2019 Master Painters Awards we were able to pick up a Gold Award for this project, and were the overall Commercial Rework Interior (contemporary) Winner!!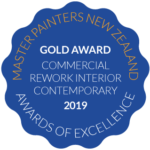 Large Commercial Projects
Industrial/Protective Coatings
Painting & Decorating specific affiliates